We've talked enough about man caves and cool bar sheds, so this week it's the turn of the ladies. As we always say, nowadays sheds can do a lot more than storing your old patio set and bbq.
Have you ever wished for a place to call your own? A getaway that doesn't involve travel or spending money. Somewhere with no kids, no dog and no husband. A place where the phone doesn't ring, the TV stays on the same channel – if you have one – and your cup of tea doesn't go cold. Well know you can, thanks to the genius invention of the she shed.
It's easy to see why they've become one of the biggest trends of the century. They're simple, beautiful and everything any woman has ever dreamed of. One major difference between a man cave and a she shed is that she sheds are generally designed with a specific interest in mind.
Reading Nook
It's no secret that women read more than men, so literature is the perfect pastime to base your she shed on. Think built in book cases on all of the walls with an area cut out in the centre big enough for a bench seat.
Neutral colours will allow you to fully concentrate on the book in hand without causing any distractions. Neutral colours are also very relaxing too.
If you're short on cash or don't fancy tackling the DIY on your own then just give your shed a lick of paint and add a selection of mis-matched furniture. Think tufted chairs, a woollen throw, embroidered rugs and, of course tea supplies.
Yoga Retreat
The perfect way to relax after a stressful day, yoga is a firm favourite in every woman's fitness regime.
To create the perfect retreat, you'll need a sound system to play soothing, natural sounds. There are loads available quite cheaply in Currys and Argos nowadays. Try to get some large canvas art – again, Argos and Wilko are perfect for keeping costs down. A natural fibre mat is an essential for any yoga studio and will help complete a natural space dedicated to relaxation.
Home Office
Sometimes work can be relaxing, but it's really easy for daily life to become a huge distraction. Having an office that's out of the house can make a major difference. Shed based offices have actually become really popular. Firstly, because they're a way to get away from distractions and also because it gives you the chance to "switch off" from work when you leave your office in the evening.
Essentials for a great shed office are a desk, comfy chair, neutral colours, great decoration and, again, tea making facilities.
Art Studio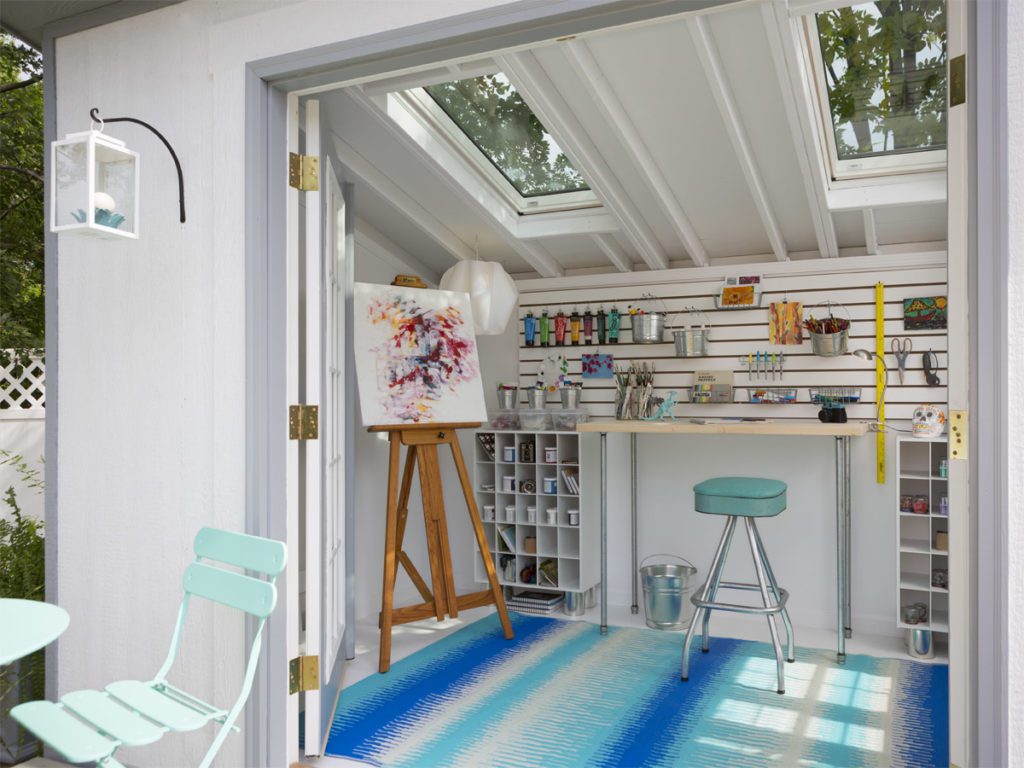 Finally, art is another popular pastime for many women, but it's one that many of us don't' dedicate nearly enough time to. Transforming your shed into a light and airy studio is much easier than you might think. You can buy an artist's easel online and they vary in price so you're sure to find something to suit your budget. Opt for white walls to act as a blank canvas to showcase your art. A desk is a useful addition too if you're not a fan of standing as you work. Finally, migrate all of your supplies from the house to your new studio. Or, you could always treat yourself with some brand new paints and quality paper!