RHS Flower Show is at Tatton Park this weekend and there's so much going on. RHS Tatton started on Wednesday 19th July and runs until Sunday 23rd July and there's still time to get tickets.
Located at Tatton Park in Cheshire, the site is well signposted and just a few miles off the M6 motorway. However you plan to get there though, the RHS website has you covered with all the directions.
Gardens
A flower show wouldn't be a flower show without gardens, so you'll be pleased to hear that Tatton has a huge selection of impressive gardens for you to explore. Whether you're looking for inner peace, relaxation, crafts or refuge, there's a garden for you at Tatton.
Butterfly Dome
The butterfly dome is brand new for the 2017 show, providing a tropical experience full of exotic butterflies. The dome recreates the insects' natural habitat and gives you the chance to see them flying around as they would in the wild. You can also take the time to learn about their natural life cycle – we've done it and it's fascinating.
Around the outside of the dome, you'll find a wild flower meadow designed to attract butterflies native to the UK.
Bus Stop Boulevard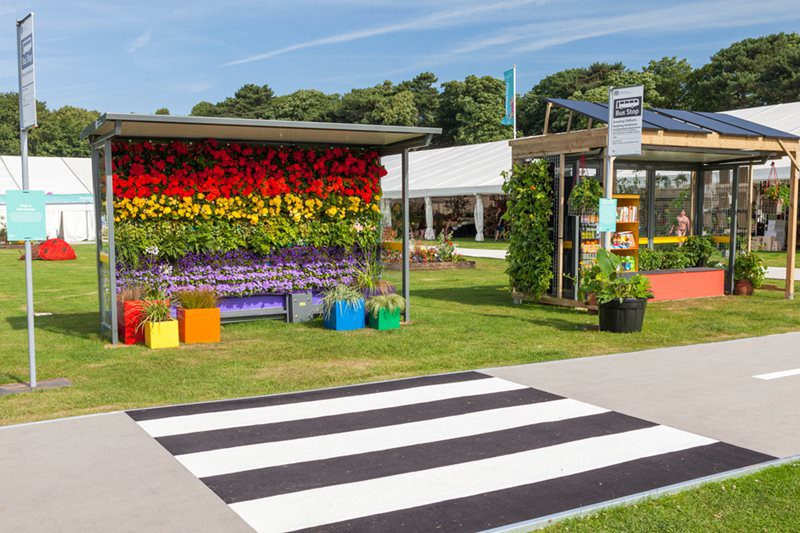 There really is everything at the RHS Tatton Flower Show this year. Another newbie for 2017 is the bus stop boulevard. Take a walk down this replica city street, supported by Transport for Greater Manchester, and visit one of a selection of bus shelters intended to celebrate community, culture and people.
Each shelter has been upcycled and recycled with just enough green added to keep everyone happy. Inspiration for the shelters was taken from the RHS Greening Grey Britain campaign.  The colourful shelters will be there to make you smile all weekend.
Talks
There are four main theatres that'll be dedicated to a number of talks and events over the weekend. The talks cover entertainment, demonstrations and the chance for you to get your hands dirty learning a new skill.
You can find information of all talks being hosted across the weekend, here.
All talks are free to event visitors.
Food & Drink
Admiration is a hungry business so you'll be pleased to know there'll be plenty available to satisfy a grumbling tummy. Whether you're in need of simple refreshment or something a little more formal, there's something for everyone at Tatton Park.
For a warm, liquid refreshment, head to the Wedgwood Tea Conservatory. Try a selection of brand new Wedgwood teas and make the most of the lighter food options too.
Around the ground you'll find a selection of food stalls offering a selection of cuisines and outside seating.
If you're looking for something a bit more formal though, try one of these hospitality packages that are sure to wow. Don't worry if you've already booked your tickets either because you can book on to the hospitality lunch as an extra.
Whether you're a garden lover or just looking for a way to entertain the kids on the first weekend of the school holidays, RHS Flower Show Tatton Park has something for everyone and is sure to delight.