Whether you're naturally green fingered or not, there's something pretty relaxing about wondering around an impressive, well-kept garden. For some people, it might evoke garden envy. For others, it's a distant appreciation and thankfulness that their own doesn't take so much upkeep.
There are so many amazing public gardens in the UK, it'd be impossible to include them all, so we've included just a few of our favourites.
Redhall Walled Garden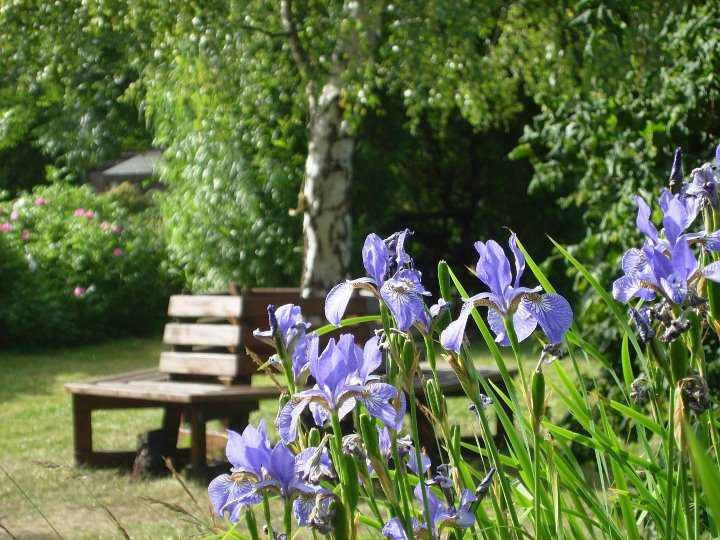 Located on the west side of Edinburgh, Redhall Walled Garden isn't like other public gardens. It's a beautiful 18th century site close to the Water of Leith in Colinton Dell – idyllic, right? However, what makes this garden extra special is the fact that it's a working garden. Redhall Garden is managed by SAMH and is looked after by a team of 50 individuals recovering from mental health problems. The garden provides a therapeutic relief and organic treatment form. Not only that, it means that the garden is being looked after by people who care. Inside the garden you'll find a number of unusual areas like a bog, sunken garden, ponds and an Iron Age roundhouse.
Redhall Gardens are open throughout 2017, Monday – Friday from 9am until 3.30pm. There are toilets on site and disabled access to the garden is available.
Brantwood House & Gardens
Honestly one of the most beautiful gardens in the Lakes. Brantwood has some amazing experimental gardens just waiting to be explored. The gardens of Brantwood House were designed by John Ruskin between 1871-1886.
Ruskin developed a series of themed gardens on the moorland behind his home and in the woodland that surrounded it. In around 1900 a collection of exotic plants was added to the garden. After this, the garden was pretty much abandoned. However, some of the exotics survived almost a century.
Nowadays, the garden has been restored to its former glory, following Ruskin's original themes and ideas. Recently though, a beautiful Victorian viewing terrace has been added. Ruskin's Zig-Zaggy has been restored also. This is an area of the garden which takes the visitor on a journey from purgatory to Dante's Earthly Paradise.
A truly unique garden that's well worth a visit. Brantwood is open all year round, you can find specific opening times on their website, here.
Trentham Gardens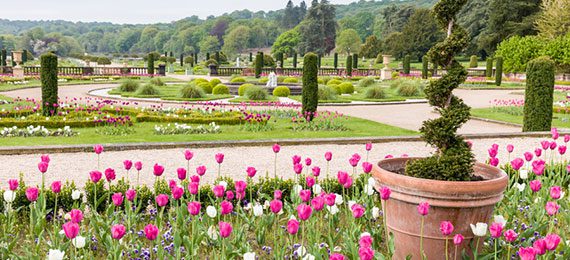 Located in the city of Stoke-On-Trent, convenient transport links make Trentham a great place to visit for families throughout the country.
The entire estate comprises of 725 acres and has something for everyone. A stroll through the new garden, will take you on a lakeside walk, through the show gardens or along the fairy trail.
Along with the impressive gardens waiting to be explored, you should also visit the famous garden centre and the beautiful shopping village. You could even get your adrenaline pumping at aerial extreme or take the family for an exciting walk around the monkey forest.
Trentham is open all year round but times depend on the season. Take a look here for precise opening times for your visit.
Upton House & Gardens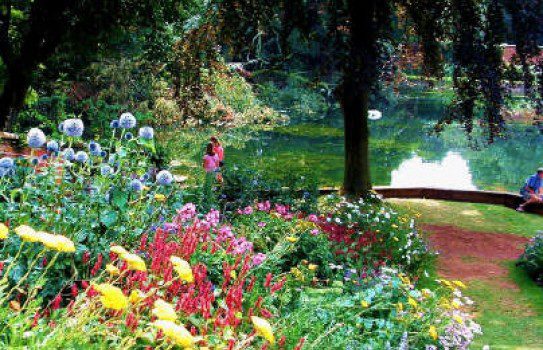 Upton House is a National Trust property built in 1695. Although the house is a must-see, the garden is particularly special. The gardens of Upton House feature a series of terraces leading down to a beautiful pool. The most notable feature though is the National Collection of Asters, which has been at Upton since 1985. The asters create a beautiful collection with three particularly important species – A. amellus, A cordiofolius and A ericoides.
It's not just the asters to see though, there's a kitchen garden which is used to grow fruit and vegetables for use in the restaurant. There are also some beautiful herbaceous borders, formal gardens and a beautiful rose garden.
Complete your day with a visit to the house, the yew walk and a visit to the 1930s water garden.
From Aberdeen to Penzance, the UK is filled with amazing gardens just waiting to be discovered. To plan your perfect day out, take a look here at the gardens near you.