Hotels are great, very often they're extremely luxurious, but they're also very samey and can definitely get a bit boring – especially if you're one of those people to embark on the same holiday to the same hotel, year after year.
If you fancy a change of scenery we've certainly got you covered, with everything from almost invisible treehouses to harbour-side cranes and everything in between…
Treehouse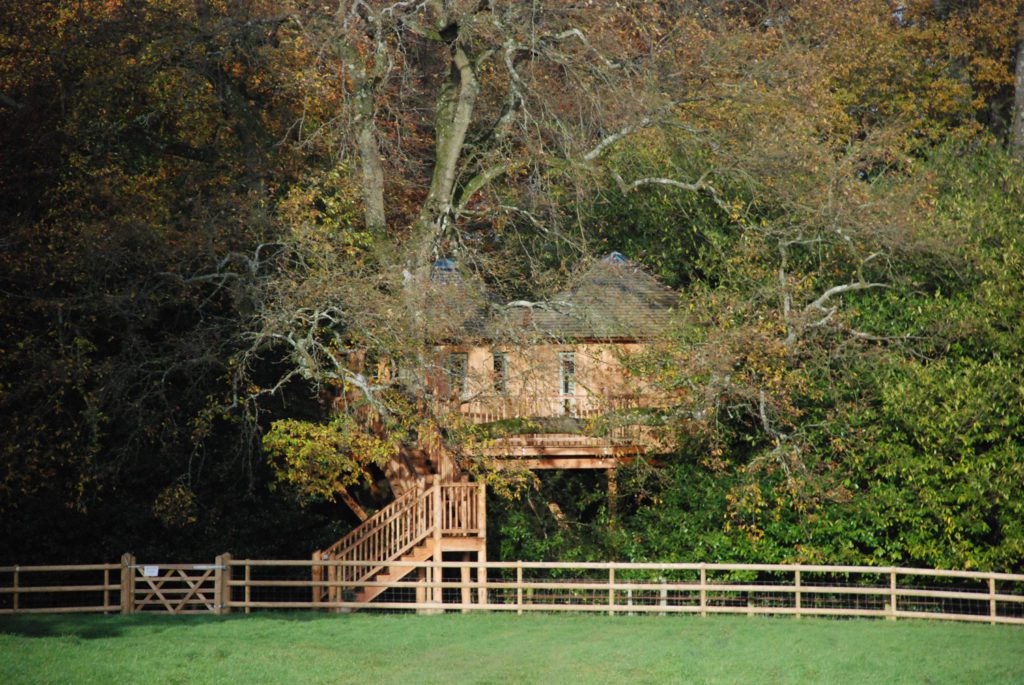 It looks stunning already, doesn't it? Wait until you see inside…
Located in the county of Somerset, The Treehouse at Harptree Court is the perfect romantic escape for anyone looking for a getaway with a difference.
From the ground, this magnificent location is almost completely invisible, but as you climb the steps around a twisted oak truck you'll be amazed at the sight that unfolds.
Inside you'll find a king size bed, fully functioning country kitchen and a wrap around balcony. Surprisingly though, none of these are the highlight because at the bottom of the bed you'll find a huge roll top copper bath tub (there's also a traditional bathroom with a shower, of course).
A little fun fact for any of you Bake Off fans out there, the grounds of Harptree Court were actually used for filming a few years ago. And, speaking of cake, you'll be treated to a delivery of Linda's legendary lemon cake if you're lucky enough to find availability for this unmissable experience.
If you are interested in making a booking, then head on over to the Canopy & Stars website.
Crane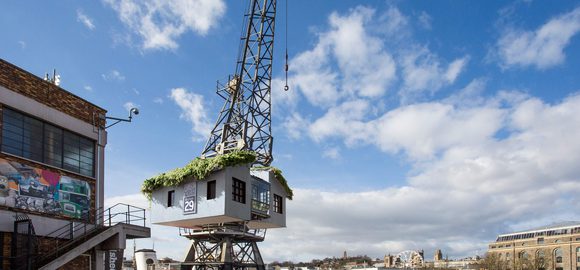 Yes, you really did read that correctly… a crane. It might not seem like a first choice for luxury but you're sure to be surprised.
Located right on the edge of Bristol Harbour, this brand new form of glamping accommodation is perfect for anyone looking for a country getaway with a city buzz. On the outside, you're just steps away from Bristol's bars, bistros and beautiful craft beers. On the inside you'll be immersed in a natural sensory experience that many city dwellers will envy. Of course you'll also be able to tuck into your tasty breakfast hamper and enjoy the views that Bristol Harbour has to offer.
This is something that needs to be seen to be believed, it's a brand new addition to Canopy & Stars portfolio and has proved pretty popular. So much so that the booking process is a little different to normal. If you'd like to stay in Crane 29 then you need to enter into a ballot, which will give you the opportunity to be selected for your chosen stay date from June 2017 – good luck!
Gypsy Wagon
Nestled in the Monmouthshire hills, Little Oasis Pandy has two gypsy wagons – Josie and Rosy – and also a newly renovated railway carriage (Hanbury) too.
With amazing views, no neighbours – honestly, you can't even see the other wagons from your own – and bonnie little lambs to keep you company in the spring, this place really does live up to its name as it's truly a little oasis.
For a truly unique and relaxing getaway with a magical air, look no further than Josie, Rosy and Hanbury. Surrounded by wildflower meadows, streams and even a miniature water mill, it's a place of beauty and tranquillity.
On arrival you'll be shown to your chosen wagon where there's everything you need including an outdoor kitchen which allows you to enjoy the views even while cooking. You'll have a fire pit and, most importantly, a welcome hamper packed with a variety of local produce but, for the first night, we'd particularly recommend the marshmallows.
Yurts
Arguably where the glamping craze all started, yurts are the perfect option for a shabby chic getaway.
With large, comfortable beds, bedroom furniture and linen and towels provided, this little yurt village at The Park Cornwall really is a home from home.
The Park also offers many other forms of accommodation including cottages, lodges, airstream trailers and caravans, but the yurt village is where our heart lies.
Secluded at the top of a fairly steep bank (don't worry, it's a short one) and fenced off for privacy, you open the gate and enter a truly magical world. A small village of four private yurts and a yurt lounge awaits you, along with gypsy wagons that have been lovingly transformed into washing and showering facilities. You'll also find a large hut with a fully functioning kitchen and dining area. If you don't feel like cooking though there's a great menu available at their Gusto bar, or try one of the many local beachside pubs and restaurants available. A personal recommendation would be the Traveller's Rest at Mawgan Porth just a two minute drive from The Park and serves fresh, homemade food accompanied with a great beer selection from St Austell Brewery.
The final touch that makes the yurt village just that little bit different is the hot tub within the grounds, perfect for relaxing on a summer evening or warming up during the winter.