If your outside space is limited, you might laugh when people refer to it as a garden. However, limited space doesn't need to mean restricted comfort, design or originality.
Although challenging, a small garden, terrace or balcony can be reworked into beautiful outdoor havens for you to relax, entertain and enjoy.
Whether you're trying to create an al fresco dining area or a hippy haven full of bright colours and quirky accessories, we've put together a collection of design ideas to tickle your taste buds.
You'll find the key to making any small space work (indoor or outdoor), is to use the space intelligently. Make the most of your furniture by doubling it up as storage, use contrasting colours to create the illusion of a larger space and try using more than just your floorspace to enhance the area you've got to play with.
Don't forget, it's not all doom and gloom if you've got a small garden. They're much easier to maintain and can easily become an extension of your indoor living space. So, to make the most of your small garden, be creative and take a look at these top tips:
Mix it up
Image: Ideal Home
The big trend is zonal gardens and there's no reason this can't apply to small spaces as well. You can easily create beautiful zoned areas that work in harmony with each other while also expanding the space. Think dark decking, light patio slabs and grey stones or slate, all broken up with large tubs. You could even bury tubs beneath a stoned area allowing greenery to burst through. This will fill the space – making it seem bigger – while ensuring it's also easy to manage.
Creating this type of look doesn't need to be expensive. Grab some decking from Wickes and stain it yourself. Slabs, greenery and stones can all be picked up from B&Q or any local garden centre and they really don't cost the earth.
Lawn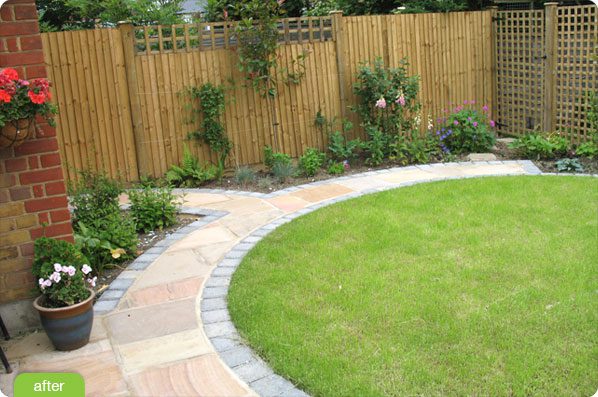 Image: Nancy Rodgers Garden Design
If a lawn is an absolute essential to you, then make it a feature. Create beautiful boarders of stone, slabs, brightly coloured flowers – literally whatever you fancy. Forget the traditional patio set, try some garden bean bags like these from Bean Bag Bazaar, add some beautiful fairy lights to a garden trellis and you'll have created a magical seating area like something from a fairy tale – if you're struggling for inspiration, take a look here.
Make the most of what you have
Image: The Room Edit
Outside space goes to waste so often because people rarely see it as part of their garden. Take that small passageway down the side of you house, what's the betting you use it to store your wheelie bins? Why, when it could be used to enhance your outside space even further. It could mean you've finally got the room too entertain friends if you use it as a cute alfresco dining area like the one above.
Location is key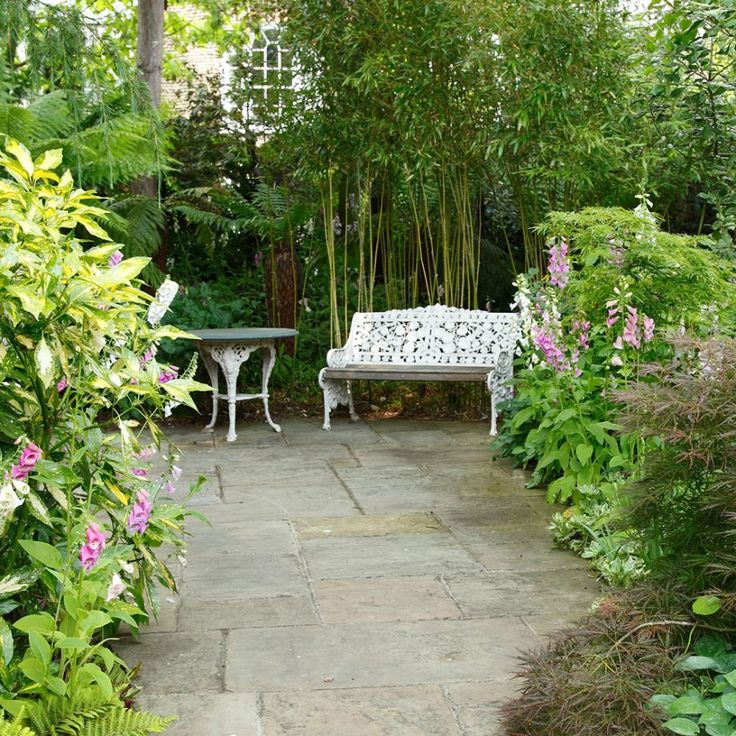 Image: Pinterest
Illusion is key when it comes to small gardens which means it's all about what you choose to include and where you decide to put them. White garden furniture is a great way to brighten up your garden as well as adding length. Believe it or not, larger garden furniture like benches, are much better at enlarging space than smaller items. There's a really nice collection of white garden benches at Wayfair, so take a look and be sure to send us some pictures of them in situ. Consider complementing your furniture with white metal hanging baskets or plant pots throughout the garden. It'll create a stunning effect and will definitely make you feel less claustrophobic.
If you have any other small garden design tips, get in touch and let us know. You never know, you might be quoted in our next post!